Weekly Report October 27
For new readers of the blog, I recommend reading the terminology page before the weekly reports.
Stocks
Stocks have been correcting as I predicted in the October 6th weekly report. What is severe is that the internal structure of the market is crumbling fast. Many major components of the indexes are quickly turning sour.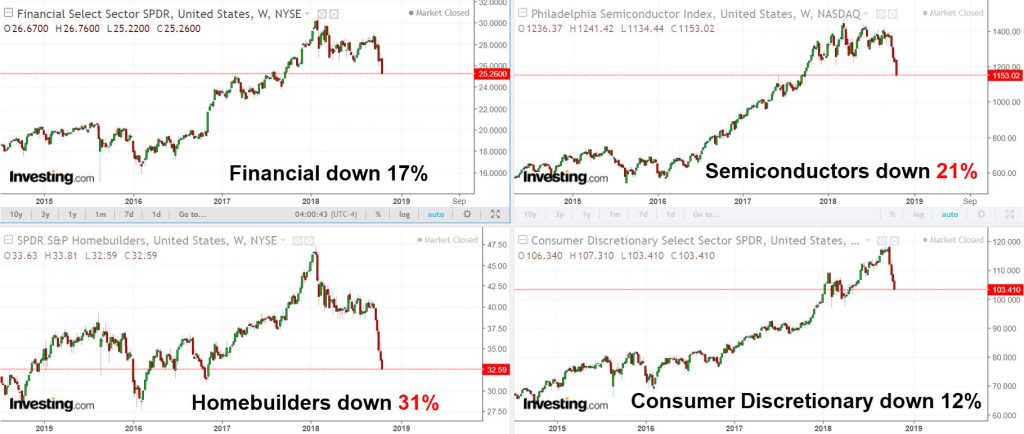 The breath of the market stinks like it's 2007. That being said, I'm ready to go long early next week as we are in the process of forming an Intermediate Cycle Low. ICLs are the best times of the year to trade long. I'll probably be quick to take profits on that position as I'm not fully convinced that we are going to make new all time highs in the S&P500. The bounce will be a good point to start transitioning into bear market tactics. I'll be following the financials, homebuilders, semiconductors as well as tech stocks in general very closely during the next rally as those are the markets, I feel that are going to start tumbling the most in the next bear market. Tech especially has long ways to fall from the levels we've reached and a bounce in SOXX over the next 4-6 weeks would be rather ideal point to buy some OTM puts.
December Rate Hike
One interesting side note is that the odds for another rate hike in December have come down rather severely in a short period of time. A month ago, the markets priced in 82% chance for another rate hike in December – that has now fallen to 67%. The Fed follows the markets and so if the markets are telling the Fed not to raise rates they won't. I believe that a highly inflationary period is about to start in commodities, but it might take until the beginning of next year for things to get really whacky due to the strong dollar at the moment. Once the markets hear it from Powell that the Fed isn't going to raise rates, the USD will start to collapse pushing commodity prices higher.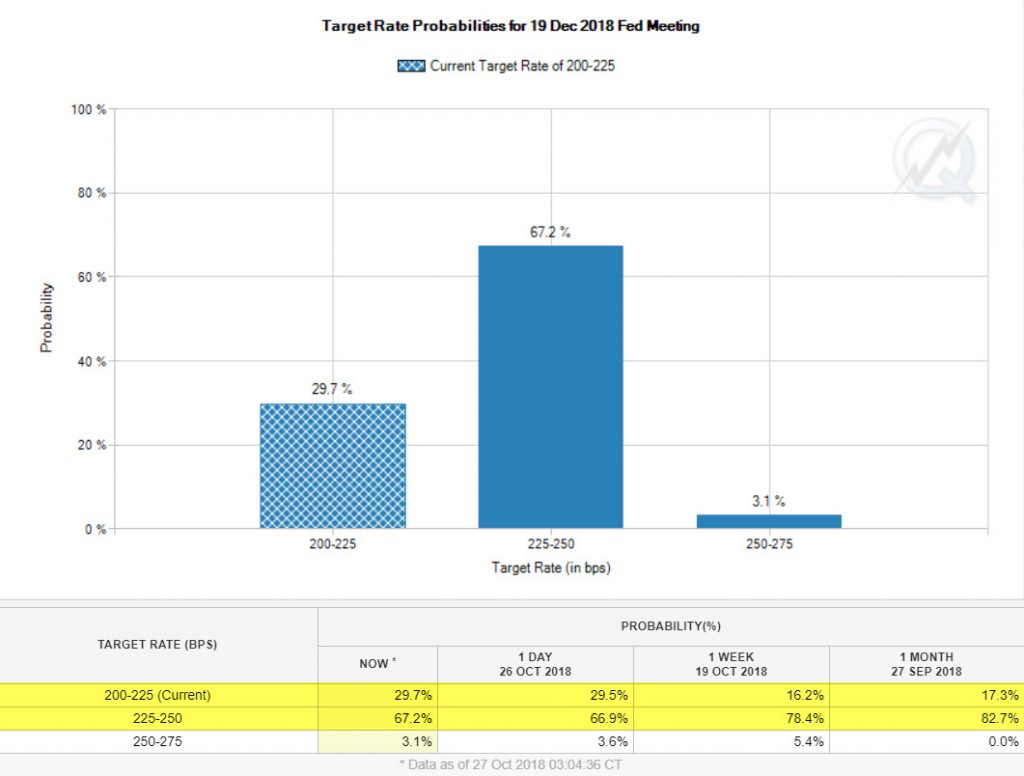 Source: CME Group
Oil
The correction in oil has lasted longer than I was originally anticipating but no irreversible damage has been done. I think that oil has been building a base since the selloff on Tuesday and that base is getting ready. The cycle is mature, price is oversold and so now we need confirmation of a bottom. First confirmation would be breaking the cycle downtrend line, second is a daily swing low and third is turning up the 10 DMA.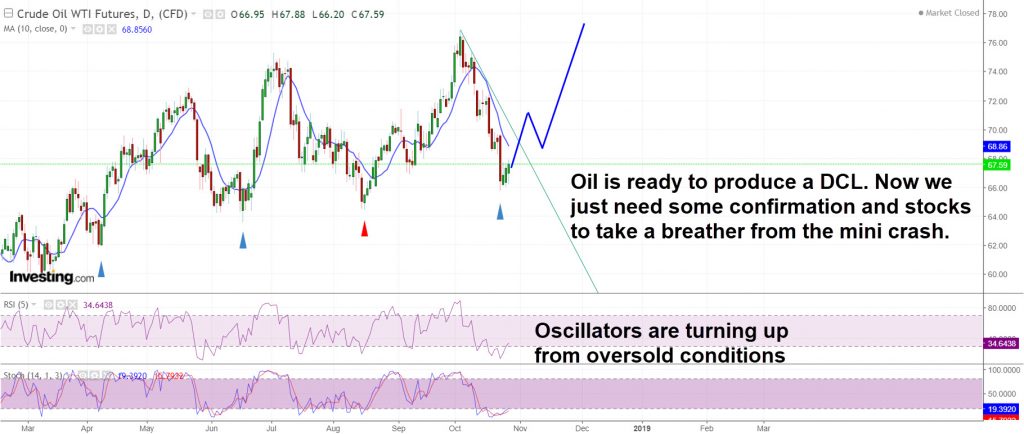 I tend to think that we produced the DCL on Tuesday in WTI but if we are to get an undercut early next week that's also fine. The depth of this decline is currently right up there amongst other daily cycle declines and so there's nothing to be worried about for the time being. Oil is forming a daily cycle low as it has done for four times this year already.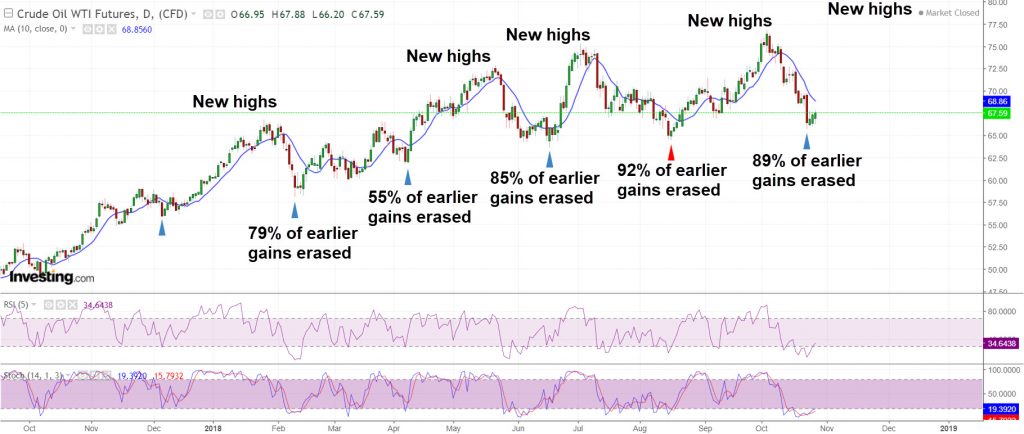 Oil tends to move into daily cycle lows when stocks do. We can see this from the most recent correction in oil which has almost perfectly overlapped the mini crash in stocks. As I mentioned in the stocks section, I believe that stocks are very close to an ICL and once the bottom is formed in stocks that should offer nice tailwind for oil to rally. Another thing to point out is that Brent remains to pose relative strength compared to WTI and retraced only 70% compared to almost 90% in WTI. Brent has also formed a daily swing low and so the first confirmation of a DCL is in for Brent.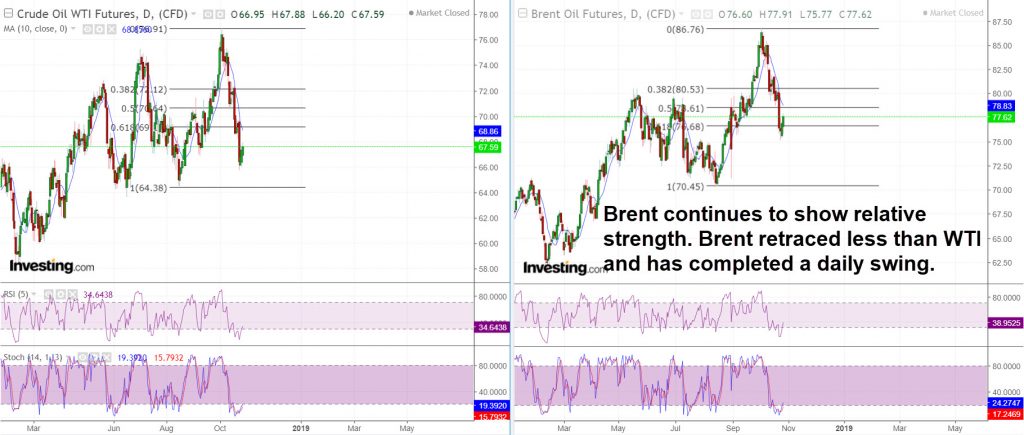 Big picture is important. Most of the time, oil has a high positive correlation with the US stock market as in the current correction but from time to time that correlation reverts to close to inverse. This happened in 2007 as stocks started to deflate and liquidity poured into oil and other commodities in late 2007 and early 2008. The current setup seems similar to the one in 2007 when stocks begun to crack. Stocks have made a higher highs as they did in October 2007 after which they produced a mini crash just like now. I'm expecting history to repeat itself before the next recession and this is very bullish for oil.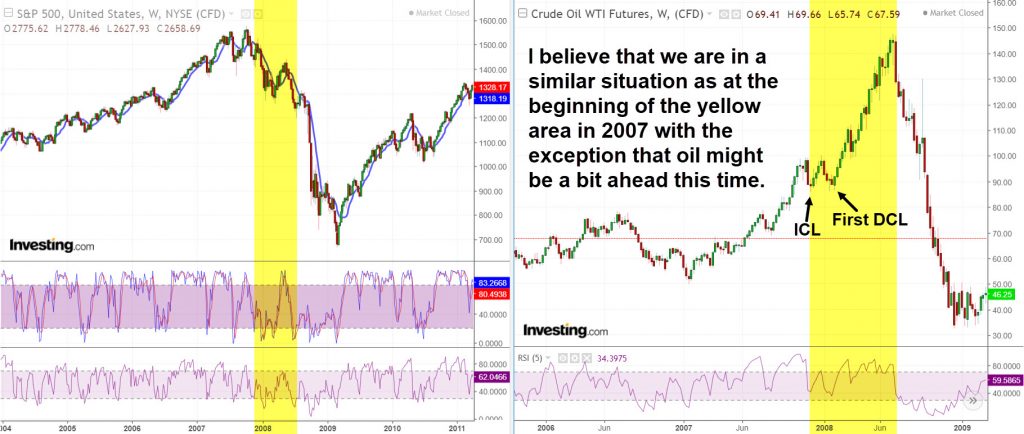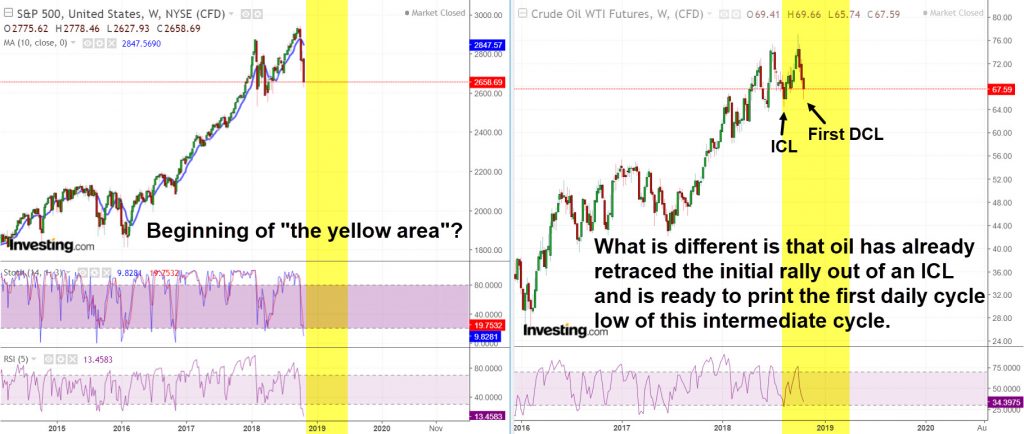 I've been talking about this long oil trade for a while already and now things are starting to get really interesting. In case you've missed it you can see all my mentions on oil here. The first time I talked about the trade was in early July.
Gold
Gold has been grinding higher as it should in the advancing phase of an intermediate cycle and the weekly chart looks healthy. I assume that the low on September 28th was just a HCL as it was just too early for gold to produce a DCL. This means that gold is on day 52 of the first daily cycle which means that in normal circumstances gold would be due for a DCL over the next two weeks.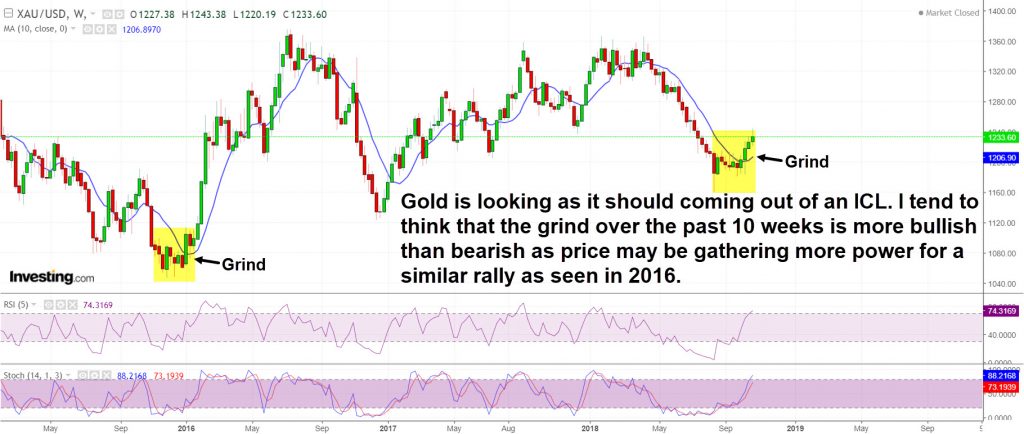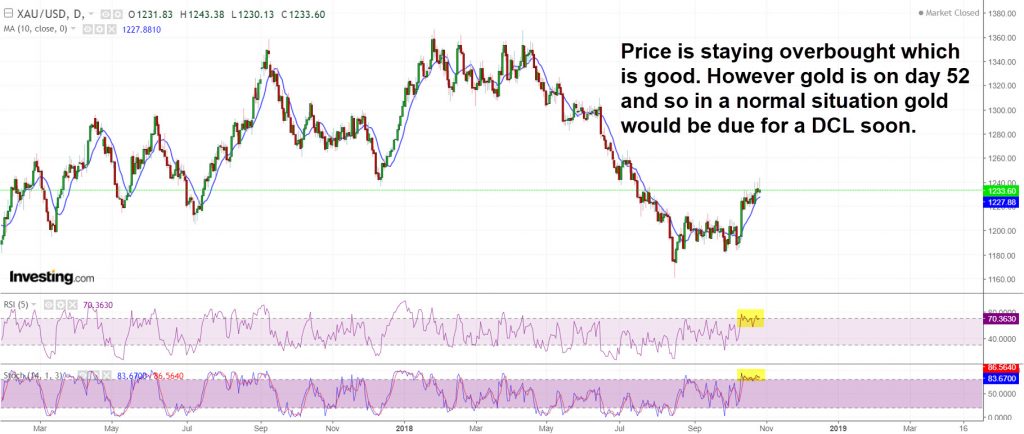 In the initial rally from the 2015 bear market low, the first daily cycle ran over 80 days. The cycles have been just a mess lately precious metals and considering the severity of the previous intermediate cycle decline gold has a lot of dry power to generate a similar move as it did in early 2016. This means that we could very well just take off to the upside and that the DCL would get pushed down the road like it did in 2016.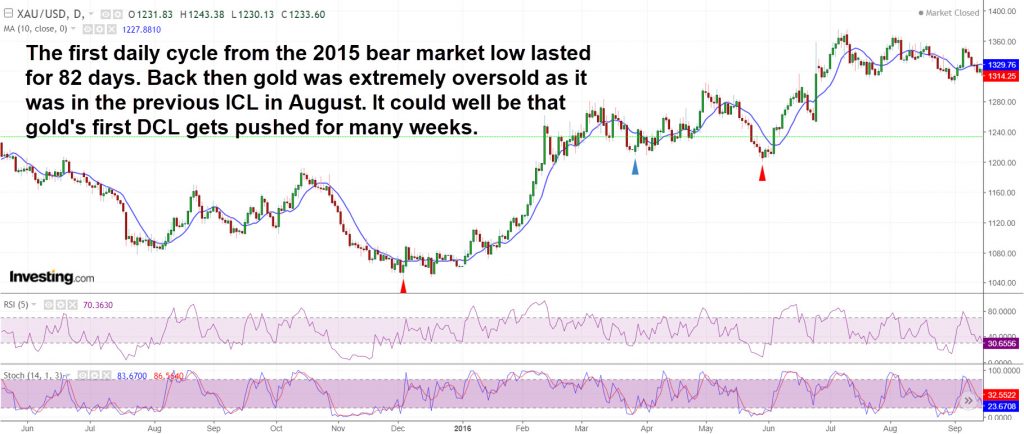 Silver has been stuck in a triangle for the whole course of October. I think that eventually silver will breakout higher from the triangle, but if gold is to produce a DCL soon, it could be that the initial break will come to the downside. Then again in the advancing phase of an intermediate cycle surprises tend to come to the upside and so if gold starts to rally it could well be that silver just breakouts and starts to run higher leaving everyone at the station. I'm not the magician to tell which scenario is going to play out at this point but I continue to hold my long position in silver futures calls.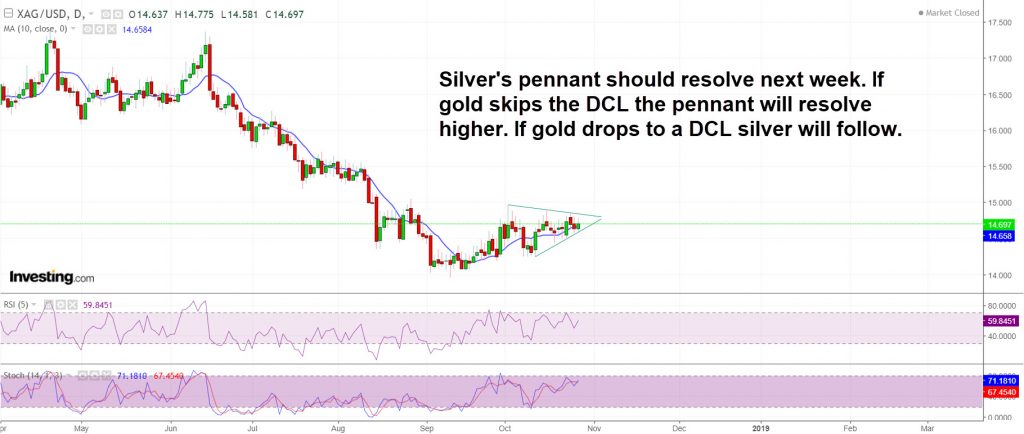 Whichever scenario is going to play out in the short term my verdict for the long term remains: gold higher.
I've been busy traveling over the past three weeks and thus there haven't been any weekly reports. Bangkok, Hanoi, Halong Bay… I've also made quite a bit of progress in setting up my proprietary trading company here in Hong Kong. Trading is scheduled to begin in early December if all goes as planned. That's about the same as when I'll be handing over my thesis. Now I'll try to get the blog routine back on track. Safe trading!
Ps. I need to find a publicly known long term gold bear to interview for my thesis. If you have suggestions, I'd appreciate it a lot if you'd pop me a message in Twitter or LinkedIn or where ever suits you.
To receive instant notifications on new posts, follow SKAL Capital on Twitter.