Weekly Report November 12
For new readers of the blog, I recommend reading the terminology page before the weekly reports.
First of all, my short term trades have been badly off for the past month or so and I'm going to focus on the big picture from now on for a while at least.
Currencies
The dollar has had a very strong year so far. This year has been an arms wrestle between inflation and deflation and so far the dollar is rallying hard and there's little to suggest it has run out of steam yet. It seems that the rest of the year is going to be deflationary which means that the headwind for commodities will continue.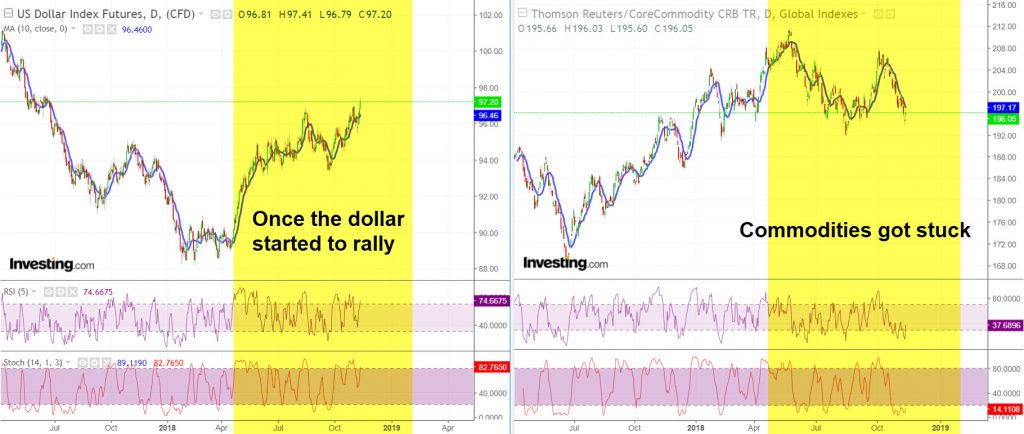 There's been some talk over a dollar shortage in the emerging markets for the past half a year and this has been the rationale for many dollar bulls this year. I'm not too convinced that this is the reason for the strong dollar – frankly I'm not sure. I'm still strongly in the opinion that even if there's a dollar shortage in the Emerging Markets the dollar is still in a secular bear market which will probably end to the collapse of the dollar. There is little question in my mind that the dollar has completed its 3 year cycle low which came after a vicious selloff last year. I suspect that the 3 year cycle will top early next year and I'll explain the reason for this in the oil section.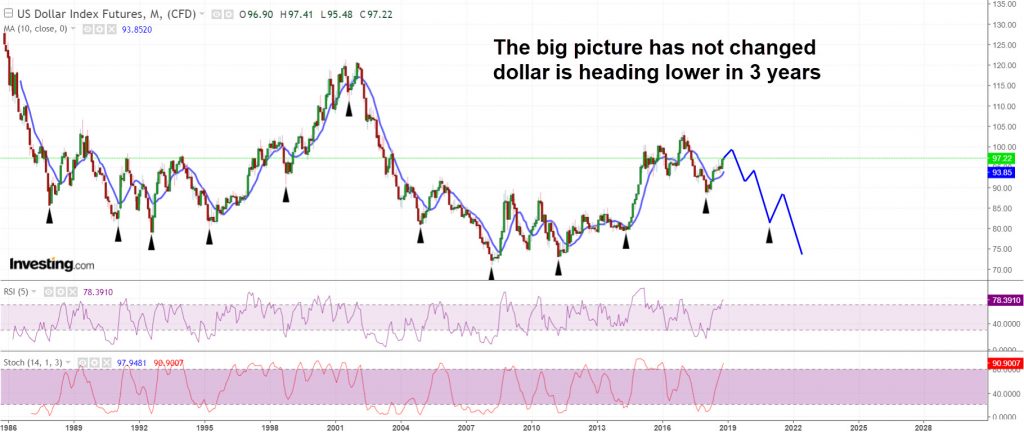 Stocks
Stocks seem to have completed an ICL. It'll be interesting to see how far the rally will carry the main indexes. I'm leaning towards more sideways action for the S&P at least. Semiconductors did take a big hit during the intermediate decline as I pointed out in the October 27 Weekly Report and so I'm not that convinced that tech will do any better. We have seen some clear bubble behavior in the FAANG stocks during the past two years which has largely been keeping up the large indexes and we all know how bubbles end.
SP consolidation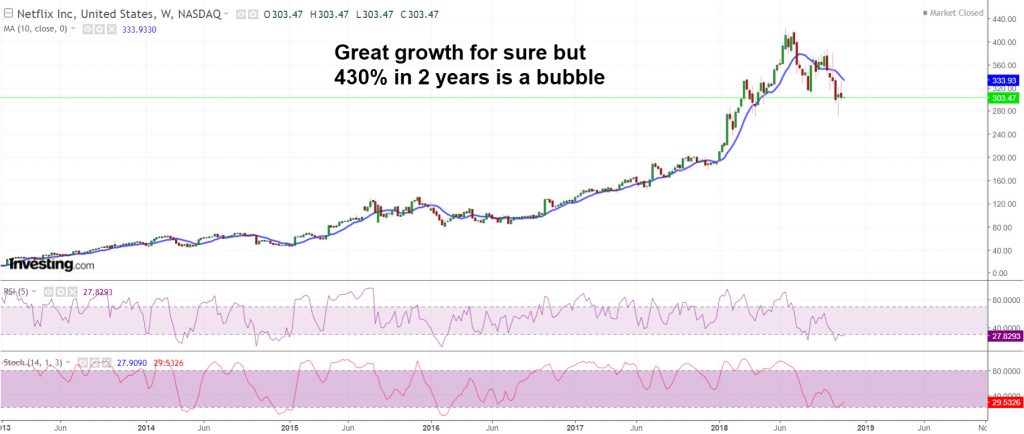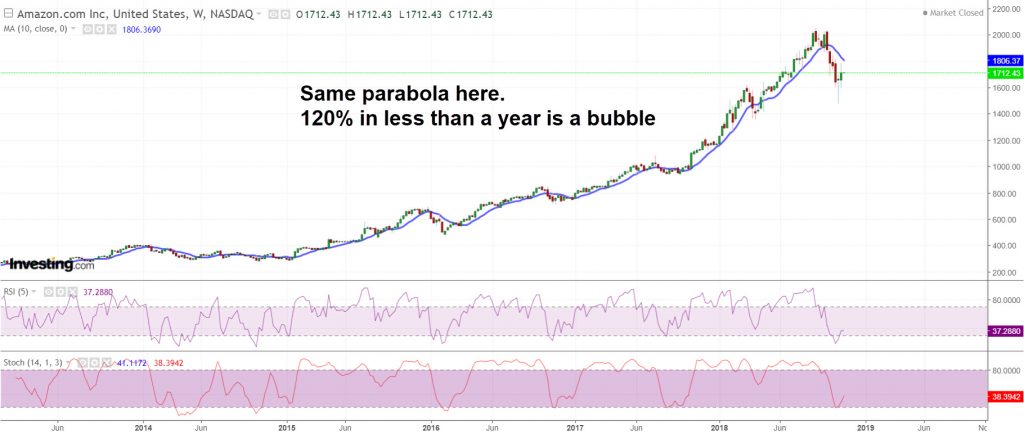 I'm keeping a close eye on homebuilders and financials. I suspect that these sectors are getting into some serious trouble especially if the S&P will be stuck in the consolidation zone without a sustained breakout to ATH. I'm looking to short these sectors once this new Intermediate cycle progresses a bit further.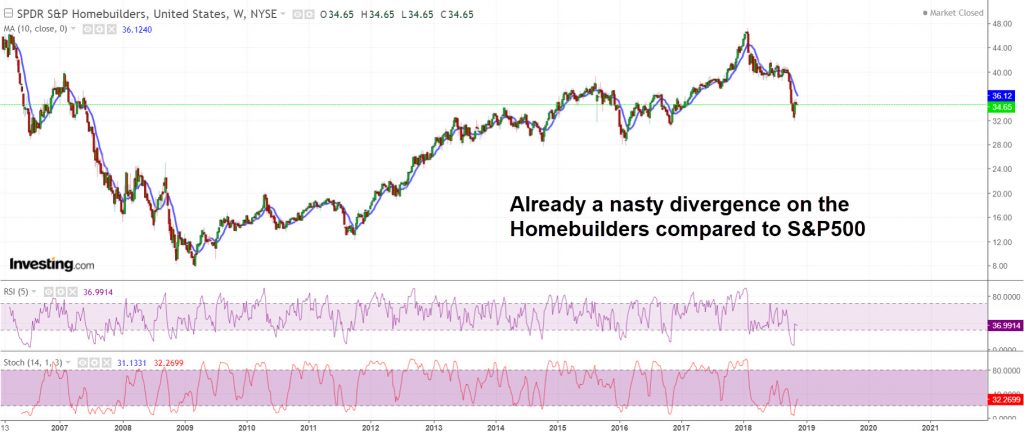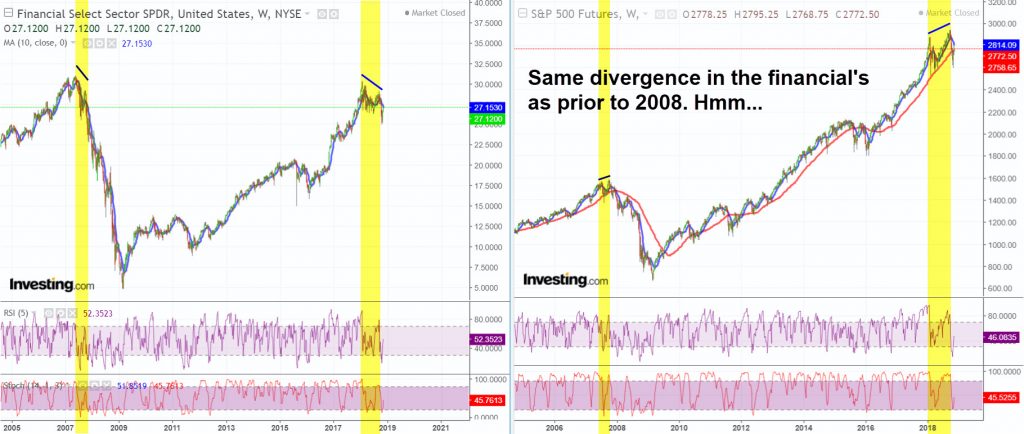 Oil
Crude and Brent gapped up as Asia opened on Monday and as of this morning both have completed daily swing lows. A daily swing on day 61 is a as good as it'll get in my opinion for a DCL to form. As oil has been selling of for 2 weeks straight with no bounces what so ever, there should be at least a relief rally soon. This should turn the 10DMA up and break the down trendline.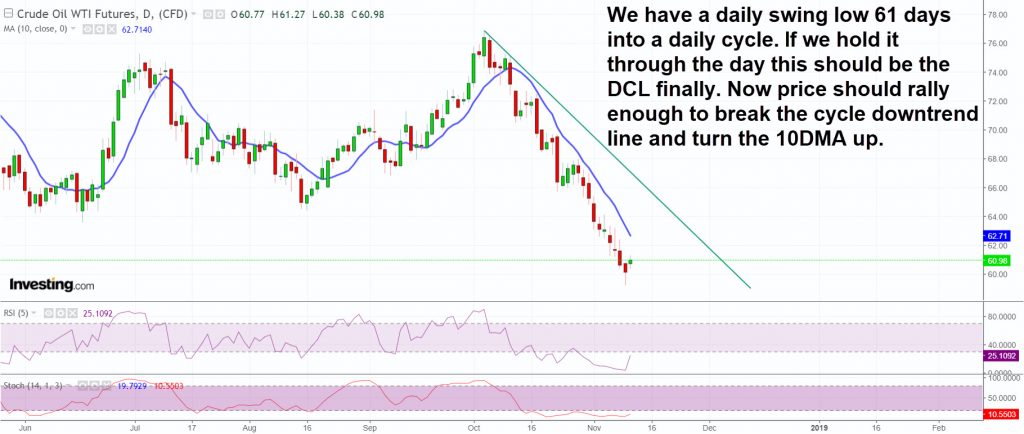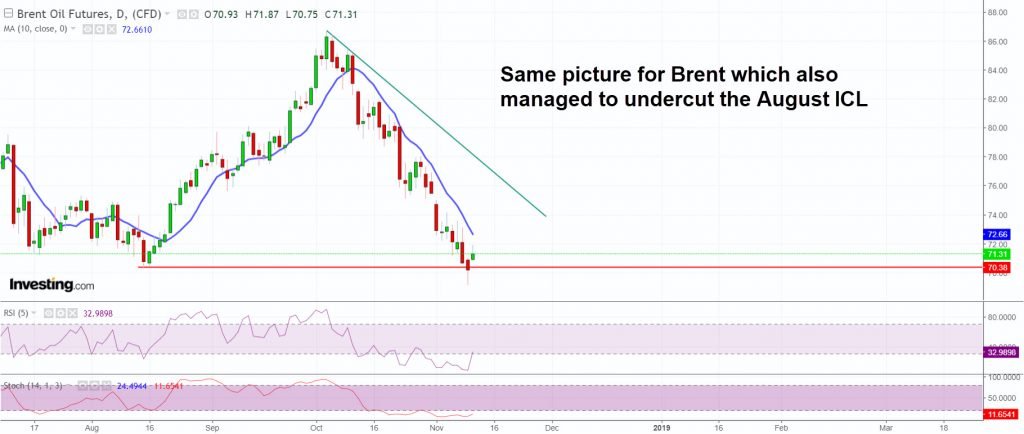 The whole decline to the DCL has taken oil a lot lower than what I was initially expecting. I'll try to play this rally on the long side but instead of piling into longs on the way up I'll probably look to sell the rally once the daily cycle looks toppish. The reason for this is the rising dollar. There was some talk a few months back that the CRB might have completed its 3 year cycle low a little early but as of this moment it seems that the whole commodity complex is moving down to a 3 year cycle low originally due in early 2019. This should coincide with the 3 year cycle top in the dollar after which I think that inflation will finally start to pick up.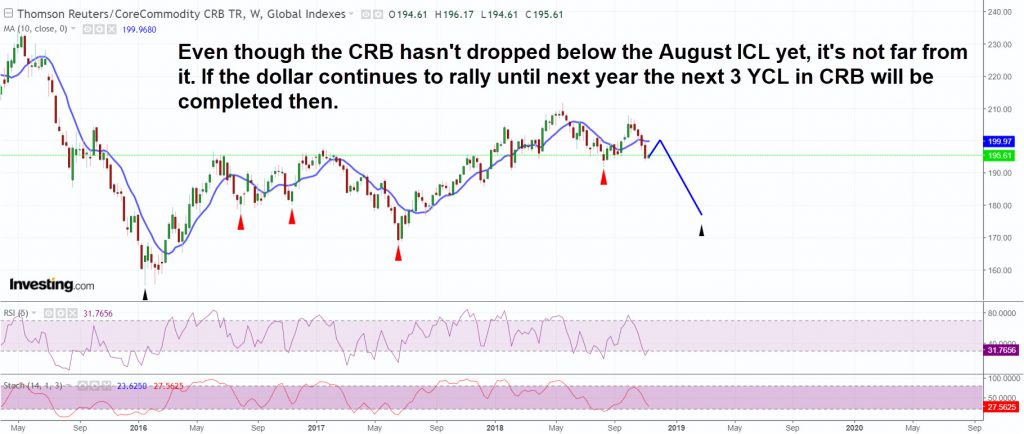 Make no mistake here. Once the 3 year cycle low is in place we'll get another shot at 100% YoY oil. Once we get a bubble in oil, we'll get a recession in the US.
Gold
The same as oil – gold is a mess at the moment. I suspect that gold will remain stuck in a multi month basing pattern until the dollar forms its 3 year cycle top.
Just to lighten the mood, here's a reminder of the markets we have to deal with in metals. Link CNBC: "Former JP Morgan trader plead quilty to maniulating US metals markets for years"
I've been focusing on my thesis for the past few weeks and so that's why the weekly reports have been late and short. As the short term picture of the market is quite a mess to me, I might skip a few weekly reports now and then until the picture gets clearer or I'll invent a time machine to buy more time. I have two general type articles in progress and I'll try to get those online during the next few weeks. One interesting note is that the Vancouver housing market along with Australia are finally starting to show true signs crumbling – more of which I'll cover later. Ground is shaking for the ones who listen.
To receive instant notifications on new posts, follow SKAL Capital on Twitter.