Weekly Report August 26
For new readers of the blog, I recommend reading the terminology page before the weekly reports.
Currencies
The way I see it is that the long Dollar trade is one of the most crowded trades currently on the market. Everyone has been bullish for the Dollar for the past few months and the breakout from the multi-month consolidation was the last straw to push sentiment to excessive optimism. However, now it seems as we have set up a perfect bull trap with a false breakout.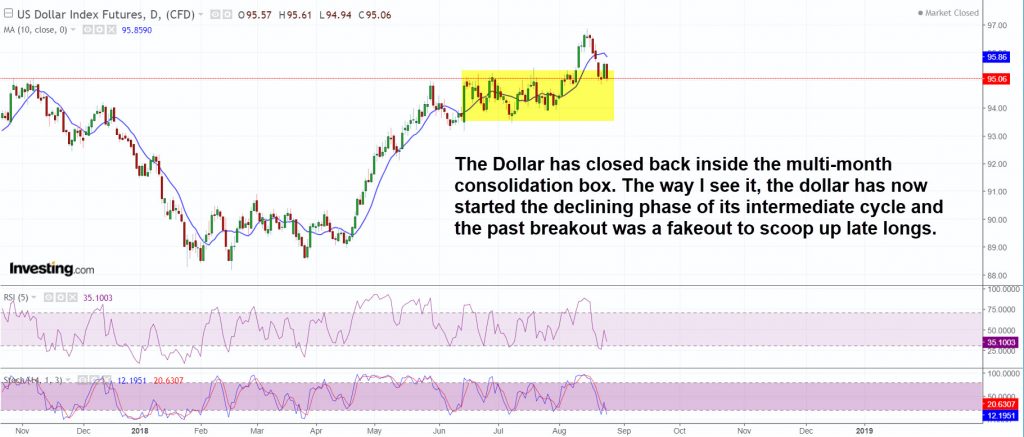 As I noted in the previous weekly report, the Dollar should break the intermediate trendline at some point. I think that we have now begun the declining phase of this intermediate cycle in the Dollar and that trendline should get taken out in the upcoming weeks. Next week I'd like to see more downward pressure in the Dollar as late longs realize losses and sell furiously.
As I've been saying for the past three months or so, the big picture has not changed. The Dollar is in a bear market which should lead to lower lows next year. The current rally was nothing more than a regular bear market rally to reset sentiment. Many people have read my articles and thought I'm nuts but the reality is that I'm a contrarian trader and once I get the right entry I make a lot of money. It might not happen on the first try or even on the fifth try as we've seen in gold but once I do catch the bottom, it's well worth the hassle.
Currently I believe that the right trade for now is long euro short dollar.
As everthing is priced in dollars nowadays, it's important to look where the currencies are headed in order to be able to accurately analyze moves in the commodity sector.
---
Gold
At this point there's little doubt in my mind the gold has produced an intermediate cycle low and here's why.
The resent low on 16th of August occured on day 63 of the daily cycle which is way overdue for a daily cycle low even by modern standards. Since then, price has managed to produce a weekly close above the 10 DMA and above the daily cycle decline trendline.
The next hurdle is to turn the 10 DMA up which should happen soon unless we are to get smashed again early next week. We should also see the 5 day RSI get overbought and to stay overbought for long periods of time in the advancing phace of the new intermediate cycle.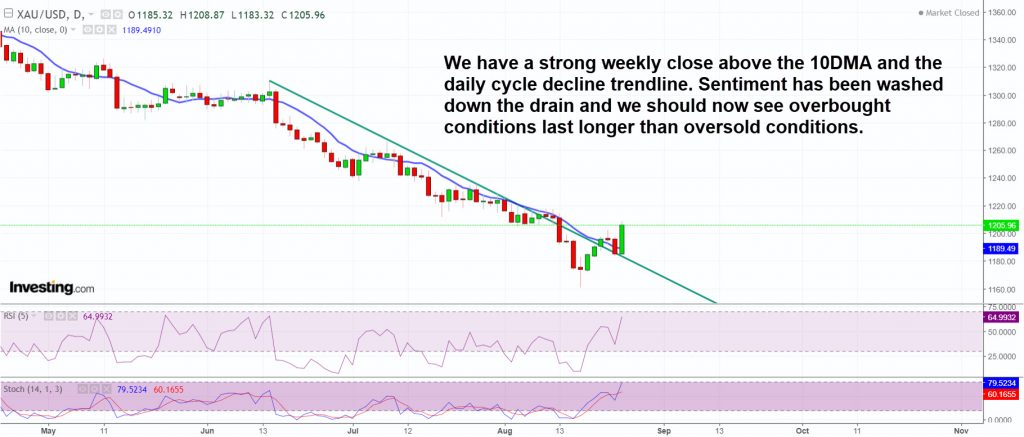 We are also close to producing a weekly swing low. I'd like to see gold close next week well above the 10 WMA.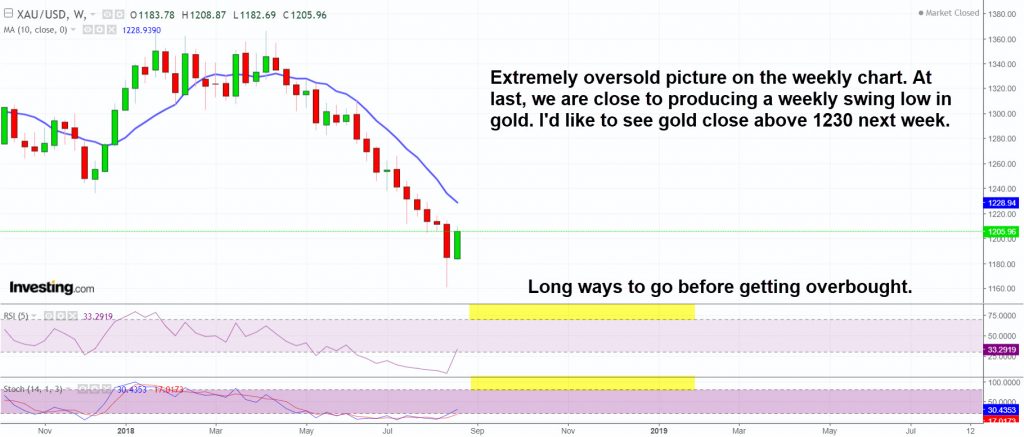 Bearing a complete reversal on Monday or Tuesday, I think it's safe to say that we have an intermediate cycle low in place.
Even though this has been one of if not the most extreme and tough ICLs in the 21st century, we are finally in position to make some money trading long gold. Many traders have damaged their mental capital to a point at which they won't be able to buy and hold for several weeks. Even if traders buy next week, they are likely to get washed out in a HCL. This will be the power to drive the intermediate advance.
Keep in mind that once the ICL is complete, gold should rally for at least 6 weeks before topping. Monday is day 7 and so even if you aren't long already it's definitely not too late to enter.
What comes to the Yuan gold peg. From a technical perspective, XAU/CNY broke down from a clear triangle pattern and has now come up to test the breakdown. If gold is to produce a powerful intermediate degree rally in Dollar terms it would take as great of a rally from Yuan for XAU/CNY to stay lodged below 8200.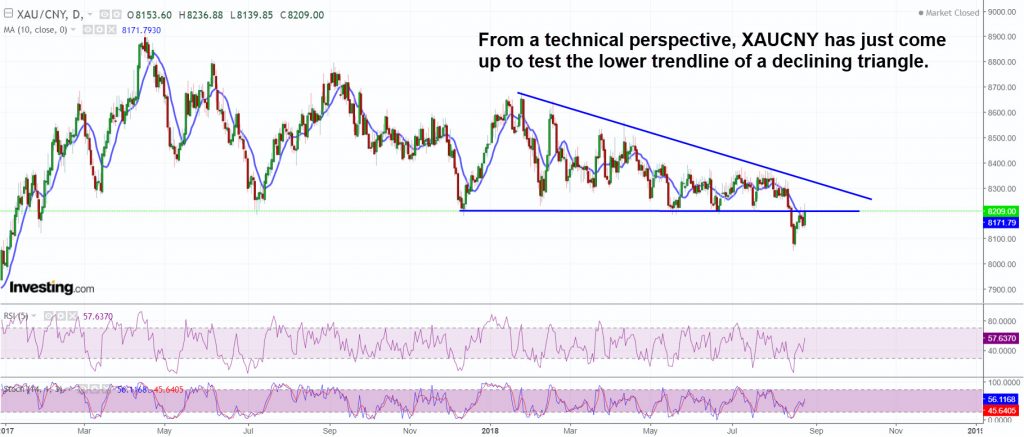 Now considering that the trade talks between the US and China have yet again failed and for now it seems likely that the US will increase the tariffs on China to 25%, China could once again devalue Yuan against the Dollar. As correlations form and break naturally in the markets from time to time, it could just be that the Yuan gold correlation was just nothing more than a temporary correlation.
We should find out in the coming weeks as Yuan faces political downward pressure and gold faces cyclical upward pressure. In a free market environment cycles win, but in the age of managed markets we should take every move with a grain of salt. 
I still consider myself as a cycles analyst and for that reason I think that we are now set up for an intermediate rally in precious metals. The COT reports showed large speculators holding net short positions in gold, silver and platinum which has happened only a few times in the whole of 21st century.
As this is a net position, the reality is that most of the large speculators are short on these metals. I find it hard to believe that China would be short all of the metals as they are mainly stockpiling gold and not platinum or silver. A short squeeze in platinum or silver could trigger short squeezes in other precious metals as well. Even if China was to manipulate gold down, if we do trigger certain thresholds in other precious metals which cause large speculators to start covering we would have considerable amount of pressure towards gold as well.
For now my trade is long precious metals.
Commodities
Commodities in genereal seem to have also produced an ICL with a false breakdown similar to the euro. In my opinion there's enough confirmation for gold to have produced a DCL and with the intermediate cycle being on week 35 (longest in the 21st century), the odds are highly in favor for an ICL as well. If gold is going to rally hard for at least 6 to 10 weeks, other commodities should do the same. The CRB hasn't produced a true ICL for over a year Now we finally have all pieces in place for a true ICL to occur.
I also think that gold could break out from the 2 year long consolidation phase. If this would happen during the next intermediate rally, we should produce enough momentum to drive oil above the 100% YoY threshold which would in turn trigger a recession in the US later this year. I'm going to be watching oil as a canary in a coal mine for this scenario.
Stocks
In my opinion, stocks are still due for a DCL as I'm not ready to call the low on 15th of August a DCL. We did break the cycle up trendline but the 5 day RSI didn't reach oversold and the 10DMA didn't turn down. As I mentioned in the previous Weekly Report, the S&P is facing round number resistance at 2900. The NASDAQ Composite is also facing major round number resistance at 8000 points. I doubt that we are going to get a sustained breakout above these levels yet as the intermediate cycle is on week 28 and so major breakouts should be smart money exits. Aka. Fakeouts.
The ICL is still ahead of us and so I think that any long stock trades should have a tight stop for the time being. You can check out my scenario on stocks from the previous weekly report.
Powells speech in the Jackson Hole symposium was dovish in my opinion. If we are going to see more dovish comments, the stock market could sell off making it impossible for FED to rise rates in September. This would align well with the upcoming ICL.
Today is the day I move to Hong Kong. 12 hours of flying ahead…
To receive instant notifications on new posts, follow SKAL Capital on Twitter.